Loughborough pedestrian area: Consultation over bus access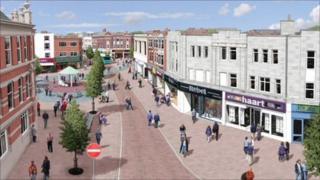 Bus access into Loughborough town centre is being debated during a six-week consultation being run by Leicestershire County Council.
A portion of the A6 in the town will be pedestrianised during the final phase of a £19m transport scheme.
But the council wants feedback on whether buses should be allowed in the pedestrian area.
Arriva Bus argues local bus services are essential but some councillors want the area to be completely "bus-free".
'Step backwards'
The Conservative-led council, which held a consultation into the issue in 2006, said another round of public feedback was necessary.
A spokesman for the county council said: "Buses would be restricted to a very low speed, so there is no danger to the public.
"This scheme has operated up in Newcastle quite happily for some time."
But Labour councillor Robert Sharp said he opposed the introduction of buses into the pedestrian area when it was finally opened.
"Buses should be re-routed to leave the town (centre) free of buses - it would be a step backwards to allow buses to operate there."
He said many retailers supported the bus ban, which he said would "connect the two main business areas and retail areas of the town - and make the shopping experience much better."
An exhibition outlining the various options will take place at Loughborough Town Hall from 21-23 November.
A trial will take place in late 2014 - based on the preferred option chosen by the council - once the pedestrian area is ready, a council spokesman said.