Leicester's Victoria Park could host major music event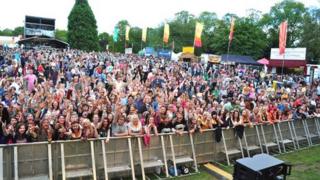 Promoters have applied to use a Leicester park for a major two-day music event.
The application has been made a month after the city's Summer Sundae festival was permanently cancelled because of financial pressures.
The two-day event would be held at Victoria Park sometime between 1 June and 1 August.
Neil Clayton, councillor for the area, said the "extremely big event" would boost the local economy.
"It was very sad to see that Summer Sundae won't be carrying on any more," he said.
"I think it's important that we have big events like this in the city centre and we have stuff to put Leicester on the map."
The application has been made by Live Nation, and details have been pinned to lampposts near the park for the public to view.
Mr Clayton said it was important that the event did not disturb people living in homes around the park, and that plans were put in place for people to get to and from the park safely.