Hundreds attend funeral of Antoin Akpom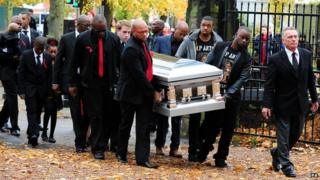 Hundreds of mourners packed a church for the funeral of a football coach who was stabbed to death.
Antoin Akpom, 20, was knifed in Kent Street, Leicester, on 12 September.
In a statement read out before the service began at 10:00 BST, the family said they wanted people to remember him for the "wonderful person he was".
Tributes were paid to Mr Akpom by his parents, sisters and fiancée, as well as city dignitaries including the Bishop of Leicester.
The family statement read: "We are here today to say farewell and lay to rest a wonderful son, a loving partner and an adoring father.
"His death at the age of 20 has been a devastating blow to his family and friends but they want people to remember him for the wonderful person he was.
"Someone who loved sport and music, someone who coached and mentored countless school children, someone who was an inspiration to everyone who met him.
"Even in death, Antoin is bringing together and uniting so many people all around Leicester.
"Many people are working hard to see that his death is not in vain and that the good work he was doing continues. This is his legacy."
The two-hour long funeral started with a recording of his mother Cheryl Armatrading singing The First Time Ever I Saw Your Face before hymns were sung and tributes were paid.
Also speaking were Sir Peter Soulsby, the city's mayor, and Keith Vaz, the local MP.
Mr Akpom worked as a primary school teacher, volunteered as a youth team coach for Leicester Nirvana FC and had also set up a sports coaching business with his best friend Joe French.
"The funeral for any person as young as Antoin is always going to be not right because it should not be happening," said Mr French.
The Right Reverend Tim Stevens, Bishop of Leicester, said: "We need to encourage the many young people there, his friends and all those who have been touched by his life, that there is hope and a real purpose in building the future of our city,
"Even though it is shocking and a deep injustice has been done, we don't do anything to repair that through thoughts of revenge or the creation of conflict.
"We repair that through thoughts of reconciliation and I am sure that is what our families want and what those who knew Antoin will want as well."
Two men have been charged with Mr Akpom's murder and are next due to appear in court in January.