Fryer fire at Walkers crisps factory in Leicester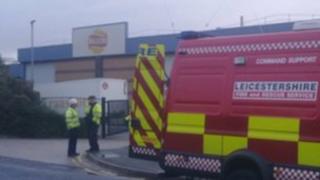 Firefighters have been tackling a "challenging" fire at the Walkers food factory in Leicester.
The fire is believed to have started in a fryer at the factory in Leycroft Road, Beaumont Leys, shortly before 03:50 BST.
All staff working in the factory were evacuated before firefighters arrived.
Leicestershire's chief fire officer, Dave Webb, said the thick black smoke in the building had been "challenging work" for officers.
No-one was injured.
"With it being an oil fire it was really quite difficult to deal with," Mr Webb said.
"There was lots of big, black smoke and almost zero visibility."
Mr Webb said the structure of the building was still safe but it had suffered some smoke damage.
At its height, the fire was tackled by 60 firefighters.
A spokesperson for PepsiCo, which owns Walkers, said the company would be "working around the clock to get things back to normal as soon as possible".