Pedestrian dies after Leicestershire M1 lorry crash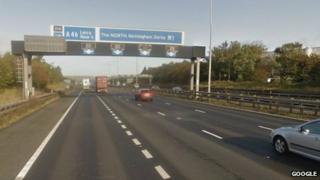 A pedestrian has died after being hit by a lorry on the M1 motorway.
It happened at junction 21a of the northbound carriageway, close to where the motorway meets the A46 in Leicestershire, on Monday evening.
Police said the pedestrian, a man, suffered serious injuries in the collision and subsequently died.
The motorway was closed at junction 21 to 22 for several hours, causing severe tailbacks. It reopened in the early hours of Tuesday.
Any witnesses to the collision are asked to contact police.