Leicester Marathon time chip failure blamed on rain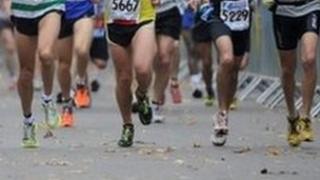 The organisers of the Leicester Marathon have apologised after many runners did not get their finish times.
The failure in the chip timing system at the race on Sunday has been blamed on wet weather.
Race director Christian Weikert-Picker, said the rain affected the adhesive which keeps the devices attached to the competitor's race number.
He said he would go through video and camera footage and eventually publish each runner's data.
'Long and arduous'
Organisers said more than 3,000 people had registered to take part in the race, which started at Victoria Park, but only about 100 people have received their times.
Mr Weikert-Picker said: "We could foresee there being a problem [as] there were a lot of chips on the start-line, so we were able to manually record the first few runners.
"We are trying to retrieve the data but it's going to be long and arduous."
He added he was looking at adopting a more robust timing system next year.
A message on the marathon website had earlier said: "We are sorry to announce that the chip timing system this year did not work.
"We are extremely sorry that this has happened and we are working to get some results published."
Runner Nick Doyle said: "The race chips were different this year in a little plastic bag stuck underneath of your race number.
"We weren't even half-a-mile into the race and I reckon I saw at least 20 odd chips on the floor and people scrambling around trying to retrieve them."
Jason Blount said on Twitter: "My watch time for leicester marathon 3:59:02 but the chip timing system has failed so it will never be confirmed."
Geoff Hughes tweeted: "Can't believe the timing chips failed today, never mind. Steady £12.99 Casio didn't let me down."