Richard III burial petition for Leicester hits 34,000 signatures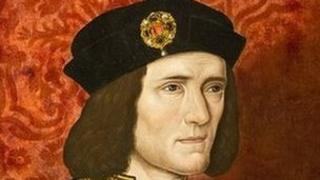 A petition supporting a decision to bury Richard III in Leicester has ended, beating a rival petition by more than 3,000 signatures.
The skeletal remains of the king, who died in 1485, were discovered beneath a car park in Leicester in February 2012.
More than 34,300 people signed an online petition supporting a decision to inter him in Leicester.
A rival Government petition, part of the Plantagenet Alliance's bid to bury him in York, gathered 31,260 names.
Their petition needed 100,000 names before a parliamentary debate could take place on the decision to inter the monarch in the Midlands city.
Roy Shakespeare who started the Leicester petition said: "He [Richard III] has been in Leicester for 528 years and has been part of the fabric and history of Leicester.
"He's just become a part of us and the people of Leicester and Leicestershire love him just as if he was our own."
The petition is now likely to have a bearing on the final result of a judicial review next month, which takes into account public opinion.
Legal action
Verna Campbell, a member of the Richard III Society, believes the king's remains should be buried in York added: "Richard III is York and York has always loved Richard III.
"He was brought up in Middleham and he was at Middleham when he heard his brother had died. Basically he made the north as his own."
The remains of the king, who died at the Battle of Bosworth field, were discovered by a team from the University of Leicester under a city car park.
The licence to carry out the dig, issued by the Ministry of Justice, gave the university the authority to decide where to rebury the king.
A spokesman for the University of Leicester previously said their application "makes it clear that, if Richard was found, his remains would be reinterred at St Martin's Cathedral Leicester".
The monarch's remains are due to be reinterred in a specially-designed tomb at Leicester Cathedral some time before August 2014.
The Plantagenet Alliance, a group of distant relatives of Richard, has won a judicial review challenging the decision.