St Mary de Castro church spire to be demolished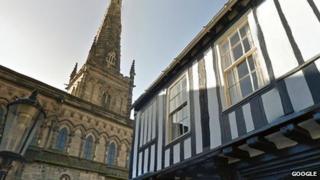 The spire of one of Leicester's oldest churches is to be demolished amid fears it might collapse.
St Mary de Castro, in the city centre, was forced to close last month because health and safety officers said it presented an "imminent danger".
Fears that the 900-year-old church's spire might collapse arose last year when large cracks appeared in it.
Money has been provided from the Heritage Lottery Fund for the spire to be demolished.
A grant of £187,000 was awarded to the church last year for repairs to the spire; instead the HLF has agreed terms to release some of the money to pay for demolition work.
'Big relief'
Spire appeal co-ordinator and treasurer Rosemary Mason said church members had been fundraising for some time but still had work to do.
She said: "The church has been closed now and sealed off by the council, so we know that the spire has to come down.
"It is a big relief that we can get a big slice of the funding.
"When it comes to the reconstruction of the spire we are going to need as much help as we can possibly get.
"The sooner we can get the spire back on the city's skyline, and get back into the church, the better."
Ms Mason said she hoped worshippers could be back in the church before 2017.
A spokeswoman from the Diocese of Leicester said demolition work was expected to begin as soon as possible.
She said: "Once the spire has been dismantled, the church will be applying for grants to help with its reconstruction but at present all efforts have been directed towards making the building safe."