Leicester house fire murders suspect charged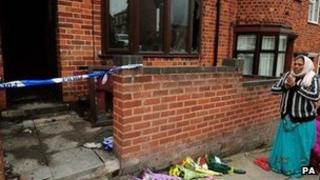 A 22-year-old man has been charged with the murders of a woman and three children in a house fire in Leicester.
The man is accused of killing Shehnila Taufiq, 47, her daughter Zainab, 19, and two sons, Bilal, 17, and 15-year-old Jamal.
He is one of eight people charged with murder in connection with their deaths.
The four died after their home in the Wood Hill area of the city was set alight on 13 September.
The 22-year-old is due at Leicester Magistrates' Court on Friday.