Work on Hinckley's £80m revamp to start next year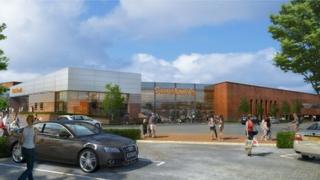 An £80m project to regenerate a Leicestershire town will start next year after fears that plans had been shelved.
The development in an area of Hinckley town centre, known as The Crescent, was approved in 2011 but other than some demolition, no work has taken place.
Delays have been blamed on the economic situation and changes to the scheme.
Hinckley and Bosworth Borough Council says work will now start in March, with completion expected the following year.
Economic difficulties
The development includes a supermarket, cinema, restaurants and a bus station.
It had been expected that work would have started this year, with the project completed by spring 2014.
However, a spokesman for Hinckley and Bosworth Borough Council said the economic downturn and changes to phases of work had led to some "slippages" with the timetable.
Tony Baker from developers Tin Hat Regeneration said there was "nothing unusual" about the delays to work beginning.
He added: "The market has just been very difficult over the last few years, however the council has been very positive and one of the reasons we were able to get on with this was because they bought one of the blocks in the new development."
The completed scheme is expected to bring 800 jobs to the region.