Loughborough rectory drug den is demolished after campaign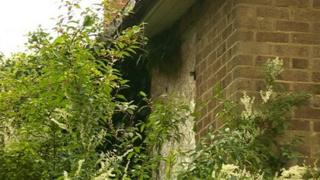 A derelict Leicestershire rectory which was described as a "melting pot of crime" has been demolished after a campaign by residents.
The building on Steeple Row, Loughborough, was sold to a developer in 2009 but was targeted by arsonists and attracted drug users.
Jonathan Hayes who petitioned for the area to be cleared, said it was now a "more pleasant" and safer area.
Site owner Willetts Homes has now sought permission to build new homes.
Director Steve Willett said the firm had wanted to demolish the rectory for some time but "red tape" had delayed the process.
"It has been an issue for a long time and hopefully now it is resolved with regards to that site," he added.
Area 'transformed'
Charnwood Borough Council said permission for the demolition and building of 11 homes had been granted last year.
A spokesperson added: "Following the demolition of the Old Rectory we are now working with the developers to ensure the conditions on the planning permission are met before work can commence on the site."
Mr Hayes, who described the derelict site as "a melting pot of crime and anti-social behaviour", collected more than 1,000 signatures from other residents who wanted the site cleared.
He also raised concerns with Charnwood Borough Council which investigated issues of vandalism, needles being found and drinkers using the building.
"It is wonderful to see the area has been cleared," he said. "The whole area is transformed."
"It has got a far safer feeling and the incentive for drug addicts to go into that area is now substantially reduced."