Leicester Royal Infirmary cancer patient had 12 hour bed wait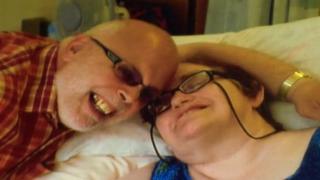 A terminally ill woman spent 12 hours on a trolley in a Leicester hospital's accident and emergency department because it "ran out of beds".
Michael Gilhooley said he was "angry" at the treatment of his wife Hilary, who has since died, at Leicester Royal Infirmary on 14 September.
University Hospitals Leicester chief executive John Adler said it was a "continuing pattern" to have more patients than beds in the department.
He said he was sorry for the incident.
Mr Gilhooley has spoken out following the death of his wife, who suffered from cancer of the spine and lungs, earlier this week.
'Very distressed'
He said he had taken Mrs Gilhooley to the hospital after she became seriously ill, arriving at about 23:00 BST.
He said that despite her needing a specialist air mattress because of her condition, his wife had been left on a trolley until 11:00 the following day when a bed was found for her.
"She was in a lot of pain and she was very distressed.
"It has had a big impact because what would have happened if Hilary had died on that trolley?
"My concern is for other people. Hilary said 'please can it not happen again to a terminally ill person'."
He added that the care his wife had received from the hospital's staff had been "fine" and he realised the doctors and nurses had "worked very hard".
Mr Gilhooley has submitted an official complaint over the incident to the hospital.
'Very unfortunate'
A spokesman for the hospital trust said Leicester Royal Infirmary had been built for 100,000 annual patients but was currently treating about 160,000.
He said the hospital was recruiting nurses and had recently taken on two more consultants to tackle the growing problem.
He added that this September had been the busiest in the accident and emergency department for seven years.
Mr Adler said that "what happened over that weekend is that we simply had more patients coming into our A&E department than we had beds for".
"Unfortunately it's a continuing pattern.
"I would like to apologise to Mr Gilhooley and his family. [It was] is a very unfortunate experience which we would want to avoid for any patient."