New York taxi crash victim Sian Green leaves hospital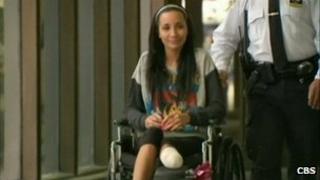 A woman who lost part of her left leg when she was hit by a New York taxi has been released from hospital.
Sian Green, 24, from Leicester, was injured when one of the city's yellow cabs mounted the kerb and hit her just hours after she arrived.
Ms Green, who has been in hospital in New York since August, said she had been very homesick and was looking forward to going home.
Doctors said she was "fortunate" not to have suffered a more serious injury.
"I have been here for weeks, so you can just imagine my relief - just to get some normal fresh air," said Ms Green.
"I'm going to work on my fashion line and get that all done, nothing's going to stop me."
Taxi driver's regret
The taxi driver involved, who has not been arrested, has blamed a cyclist for making him swerve.
Ms Green had her left leg amputated below the knee after the crash on 20 August, near the Rockefeller Centre on Sixth Avenue, in midtown Manhattan.
Speaking about the driver, Fernando Mateo, a spokesman for the Federation Of Taxi Cab Drivers, said: "He's hurt about what happened and it doesn't ever leave his mind but he's got to make a living.
"It was an accident. He didn't mean to hurt this young lady."