Snibston museum petition over subsidy ultimatum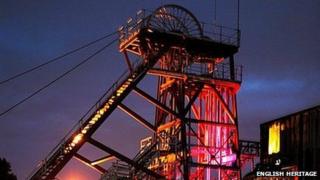 More than 2,000 people have signed a petition calling for a Leicestershire tourist attraction to be protected.
The future of Snibston Discovery Museum in Coalville has been in doubt since the county council rejected a £4m grant application in 2011.
The authority, planning £110m in cuts, said a £740,000 annual subsidy "cannot continue".
But campaigners insist the attraction is of national importance and remains a boost to the region.
Snibston is a museum of industry and technology, with a theatre and exhibition space, based around a former coal mine.
Much of the colliery remains are on English Heritage's At Risk register, which describes their condition as "very poor".
Volunteer option
The council has plans to cut £110m from its budget during the next five years because of rising costs and reduced central government funding.
Speaking last week, authority leader Nick Rushton revealed that every visitor to the museum costs £8 in subsidy.
"This cannot continue in the future," he said. "I have got such substantial savings to make that something will have to be done with Snibston.
"The same as other museums and services Snibston will have to make its share of savings".
He added: "We are going to have to subsidise something in Coalville, I was thinking maybe in the future we could create a proper mining museum in the scheduled ancient monument on the front which we have just spent £2m on.
"We will be looking to members of the public to come forward and volunteer to run things, form charities to run things, give donations and their time."
But Mr Rushton emphasised no final decision had been taken.
Chair of the Friends of Snibston, Brian Voller, said: "We dispute the figures for the subsidy, I have heard estimates closer to £300,000 and let's not forget it generates income of about £600,000.
"But you could argue there should be more investment, given its regional and national importance, and its value to a community which has already lost so many services."