Mercenfeld School fire: Solar panel 'possible cause'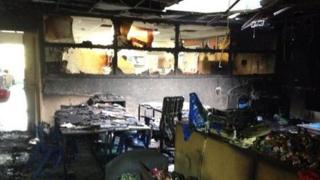 A fire at a Leicester school which gutted a classroom may have started in a solar panel on the roof, the headteacher said.
Firefighters were called to Mercenfeld Primary School in Markfield, shortly after 14:00 BST.
The call was received half way through a national four-hour strike by members of the fire brigades union.
A spokesman for Leicestershire Fire and Rescue said contingency arrangements were in place.
Headteacher Andy Kitchen said one classroom had been completely destroyed and another had suffered water damage.
'Best guess'
"Most of the fire was on the roof and our fire doors have done an amazing job so the rest of the school was saved," he said.
He said the school had last week switched on 143 solar panels installed on the school's roof and it was his "best guess" that the fire had started there.
Chief fire officer for Leicestershire Fire and Rescue Dave Webb said children had been in the classroom when the fire started but managed to get out before crews arrived.
"We had contingency arrangements in place for the strike and one of those appliances was the first in attendance," he added.
Officers are now investigating the cause of the fire.
Graham Vaux, chairman of the Leicestershire Fire Brigades Union said it was "very unfortunate" the contingency plans was tested during the industrial action but "fortunate" that nobody was injured.
The school will reopen to pupils on Monday.