Sarah Outen completes her North Pacific crossing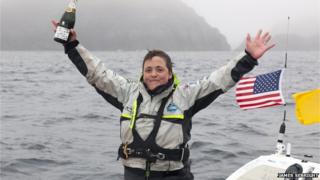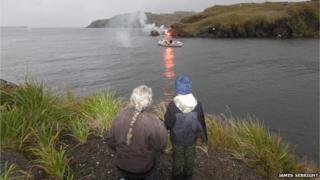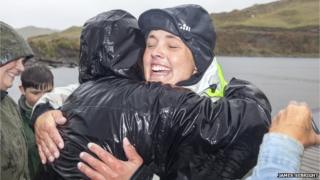 A British adventurer rowed for 150 days on a solo Pacific crossing from Japan to Alaska - and returned engaged.
Sarah Outen, 28, arrived in Adak in the Aleutian Islands on Monday after rowing 4,315 miles (6,944 km) in her boat Happy Socks.
Ms Outen, from Rutland, believes she is the first person to complete the voyage, which saw her propose to her girlfriend via satellite phone.
She is attempting to cycle, row and kayak her way around the world.
"I have had some of the most intense and memorable months of my life out on the Pacific," the Oxford University graduate said.
"It has been brilliant and brutal at the same time. And it has been a privilege.
"But I have pushed myself to my absolute limits both physically and mentally to make land here in Alaska, and body and mind are now exhausted."
The rower capsized five times during her journey and was confined to her cabin for days because of conditions.
Her "incredibly demanding" journey almost ended in disaster when, close to land, she narrowly missed being struck by a cargo ship.
But the endurance challenge also came with rewards with visits from sharks, albatross and whales.
It is the second time Ms Outen has attempted the crossing after she was forced to abandon a similar feat last year when her boat Gulliver sank.
This time she planned to row from Japan to Canada but changed her route when she was battered by high winds and bad weather, landing instead in Alaska.
It is believed she is the first person to successfully cross the Pacific, west to east.
Next year she will return to the Aleutian Islands to kayak to the mainland. She aims to raise more than £100,000 for charity as part of her London2London challenge.