Antoin Akpom murder: Police locate 'significant witness'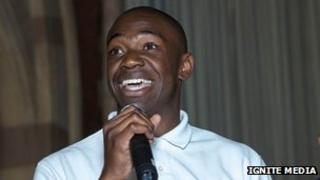 Police have traced a BMW driver who could be a "significant witness" to the murder of a football coach.
Antoin Akpom, 20, died after being assaulted in Kent Street, Leicester, at about 17:30 BST on Thursday.
The driver is thought to have passed the scene of the murder.
Police have not yet ruled out a link to a suspected arson attack that killed a mother and her three teenage children, in Wood Hill on Friday.
They have said none of those killed in the fire had any link to Mr Akpom's murder, but their home could have been mistakenly targeted in a revenge attack.
Firefighters found the bodies of Shehnila Taufiq, who was in her 40s, her 19-year-old daughter Zainab and sons, Bilal, 17, and Jamal, 15.
Mr Akpom's relatives have given their condolences to the family.
Ronny Akpom, Mr Akpom's uncle, said: "Our deepest condolences go to the Sattar family, from Wood Hill, who have also tragically lost family members."
He described his nephew as "a loving and devoted father".
Mr Akpom's sister, Lianne Murray, said he had planned to train as a teacher and worked at Sparkenhoe Primary School in Leicester.
He also coached football at Medway Primary School.
Head teacher Kath Falconer said: "It really only takes about 10 minutes until you fall under the Antoin spell of his fabulousness, and so everybody is deeply, deeply upset by what's happened."
He had also been a coach and former player at Leicester Nirvana FC, which held a minute's silence at games on Saturday and Sunday.
Detectives have been granted more time to question a 19-year-old man in connection with Mr Akpom's murder.
He was arrested in London on Friday.
Three women aged 19, 20 and 27, who were arrested on Saturday over the Wood Hill fire have been released on bail.
Two men, aged 18 and 49, remain in custody.
Mrs Taufiq's husband, and father of their children, Dr Muhammad Taufiq Al Sattar, spoke outside the mosque where they worshipped on Saturday and said he "deeply missed" his "beautiful wife and children".
A neurosurgeon in Dublin, he said: "The people of Leicester have been very supportive."