Leicester fire deaths: Five people questioned by police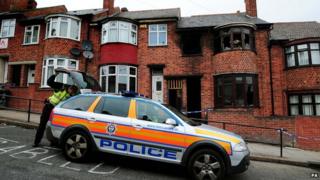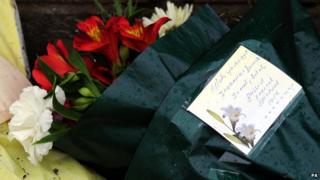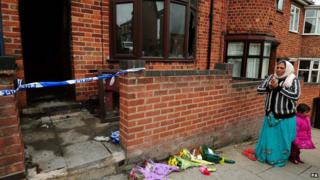 Five people are being questioned by police about a suspected arson attack which killed a mother and her three teenage children in Leicester.
The fire took hold in the early hours of Friday at their home in Wood Hill.
Detectives said they could not rule out a link to the death of a man in a street attack nearby, hours earlier.
Three women and two men were arrested on Saturday over the fire but one of the men has been released. An 18-year-old man was arrested on Sunday night.
He remains in police custody.
A 19-year-old man is being held in police custody over the fatal attack. Two 19-year-old women arrested in connection with the attack which led to the death of Antoin Akpom have been released without charge.
Mr Akpom died after an assault on Thursday in Kent Street, about a mile from Wood Hill.
'Very supportive'
The people who died in the house fire have been named by the local mosque as Shehnila Taufiq, her teenage sons Jamal and Bilal and daughter Zainab, 19.
Firefighters found them dead in upstairs bedrooms.
Police said that, while they were investigating a possible link between the deaths, there was no evidence anyone who lived in the house was involved in the street attack.
Three women, aged 27, 20 and 19, and two men, aged 49 and 19, were arrested on Saturday afternoon. The 19-year-old man was released without charge on Sunday evening.
Police were granted extra time by magistrates to hold the remaining four for questioning, meaning detectives have five people in custody.
At least 1,000 Muslim women have attended special prayers for the dead mother and her daughter, in the women's section of Jame Mosque, where the family worshipped.
On Saturday, prayers were held for Jamal and Bilal at the same mosque, which has declared three days of mourning.
Dr Muhammad Taufiq Al Sattar, the husband and father of the victims, spoke outside the mosque on Saturday and said he "deeply missed" his "beautiful wife and children".
"The people of Leicester have been very supportive," Dr Taufiq Al Sattar, a neurosurgeon who works in Dublin, said.
"I'm also thankful to the Jame Mosque. They made me feel that, despite losing my immediate entire family, the entire community in Leicester is family to me. Thank you very much."
'My best friend'
Tributes have been paid to Mr Akpom, a coach and former player at Leicester Nirvana FC, by family and friends.
The club held a minute's silence at games on Saturday and Sunday.
His sister Lianne Murray said Mr Akpom had planned to train as a teacher and worked at Sparkenhoe Primary School in Leicester.
"He was my baby brother, he was my best friend, and my right arm," she added.
Detectives have carried out house-to-house enquires in both cases and continue to appeal for witnesses.
Keith Vaz, MP for Leicester East, said the whole city was "grief stricken".
"Five innocent people have lost their lives in Leicester over the last few days, the whole city is in shock," he added.
Meanwhile, the community has been pulling together to support each other and the families.
The nearby St Peter's Church in Highfields held special prayers for everyone involved and opened its doors for people of all faiths and none.
Ted Cassidy, from the church, said: "We tolled the bell for 10 minutes and we had a small group of the congregation of St Peter's spending an hour in silent prayer.
"It was a really spiritually powerful hour where we were praying for the Taufiq family and also for Antoin."