Leicester fire deaths: Family 'not involved' in street attack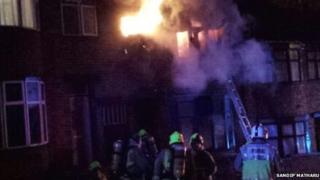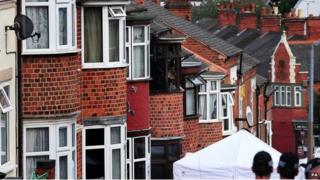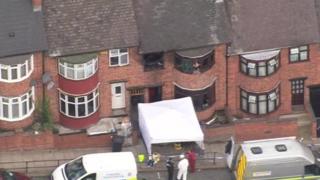 Detectives investigating a house fire in Leicester which killed four members of a family say there is no evidence they were involved in a death nearby.
Friday's fire killed four people, named locally as Shehnila Taufiq, her sons Jamal and Bilal and daughter Zainab.
Police said it was a fast moving murder investigation with "promising" lines of inquiry but no-one has been arrested.
It remains linked with the man's death in an attack but friends say they fear the family were targeted by mistake.
Police said there was no evidence anyone in the house was involved in the street attack that killed Antoin Akpom, but they could not rule out the cases being linked.
It was suggested the fire could have been a revenge attack but neighbours of the Taufiq family in Wood Hill said they believed it could have been a case of mistaken identity.
'My best friend'
Mr Akpom's sister Lianne Murray was at a Leicester Nirvana FC match where players held a minute's silence and wore armbands in his memory.
She said he worked in Sparkenhoe Primary School and had hoped to train as a teacher.
"He was my baby brother, he was my best friend, and my right arm," she said.
"Everybody said he was a version of me. He was always on a positive vibe.
"He had this laugh, he lit up the room. I know that sounds a cliche but it's true."
Assistant Chief Constable for Leicestershire Police Roger Bannister, speaking at a press conference, said there was "every reason to believe" the fire was started deliberately but a cause had not been established.
"It's a dynamic and fast moving inquiry," he added.
"It's difficult to give any indications how close we are to making arrests but some of those inquiries are promising."
Speaking of the families of both victims he said: "I sit here before you today appealing for anyone quite simply to come forward. Two families have been absolutely devastated, whole communities have been rocked."
Forensic experts continue to scour both scenes for clues and have carried out house to house enquiries in the area.
Mr Bannister said they believed there were people in the community who knew more about what had happened.
'He was passionate'
Detectives are continuing to link the fire, now a murder investigation, with the death of Mr Akpom who was in his 20s.
He died in hospital after an attack in Kent Street, in the Highfields area of Leicester, about a mile from the scene of the fire, at about 17:00 BST on Thursday,
Three people were arrested on Friday in connection with his death; a 19-year-old man in London and two women, both aged 19, in the Warwickshire area.
Zak Hajat, vice chairman at Leicester Nirvana FC, said Mr Akpom played for the club before later taking up coaching.
"He was someone who had a great relationship with the young people and he worked hard," he said.
"He was very dedicated in what he did. He was passionate that these boys have the opportunity to play football."
Mr Hajat said he had been ringing round parents at the club and the youngsters were upset at the news.
The club held a minute's silence at its home match on Saturday and will do so again on Sunday.
Mistaken identity
The blaze in Wood Hill started shortly after midnight on Friday morning with neighbours describing hearing "popping" sounds and smelling burning plastic.
A man, who was woken by the sound of neighbours attempting to alert the family, said: "The heat of the fire was so intense it could be felt on the opposite pavement.
"The guy opposite broke the door down but the fire was so intense they couldn't get in.
"They were throwing bricks at the windows at the top of the house to alert them inside but I think it was too late."
Despite residents' attempts to raise the alarm with the family all four were found by firefighters dead in upstairs bedrooms.
The children's father, Dr Muhammad Taufiq Al Sattar, worked as a neurosurgeon at Beaumont Hospital in Dublin, and was due to return home on Friday.
Neighbours and friends of the family killed in the fire said they could not believe they would be a revenge target.
The family was described as devout and hardworking and moved to the area about five years ago because of the nearby religious schools and the mosque.
Special prayers were held at the nearby Jame Mosque for Jamal and Bilal with further prayers for their mother and sister on Sunday.