FA punishments over disorder at Leicester under-15s match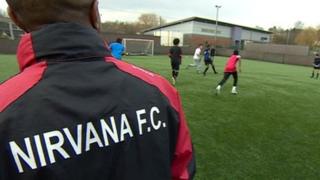 Two youth football clubs have been penalised after a row broke out at an under-15s match.
Trouble flared at a Leicester Nirvana FC and Blaby and Whetstone Boys Club game in October after racist abuse was directed at black and Asian players.
An FA investigation has now concluded one of the teams did not control its spectators and a player from each team has been suspended.
The Leicestershire and Rutland FA said it had taken the offences seriously.
'Reputation of football'
The association fined Blaby and Whetstone £100 for failing to control spectators who encroached onto the pitch and used offensive and abusive language aggravated by race.
A player was also handed a six-match ban for "threatening and offensive language aggravated by faith" and comments made on Twitter. He was fined £95.
Another player from Leicester Nirvana FC was given a two-match suspension for improper conduct after threats were made on Facebook and fined £30.
The match referee was given a warning for failing to report misconduct matters during the fixture.
Keith Murdoch, chief executive of the Leicestershire and Rutland County FA said: "We want to make sure football is something that everybody can enjoy and we don't want a situation where people are abused at all, particularly where it relates to race, gender or anything similar.
"The problem we face is of course that many players, officials and so on don't think that that's something which the FA is going to deal with.
"Clearly we are because it's about the reputation of football."
In July, Colin Francks, 50, of Linwood Lane, Leicester, admitted using threatening words and behaviour at the match at Leicester Magistrates' Court.
The Blaby fan was given a 12-month conditional discharge.