Leicestershire fire engine donated to Somali capital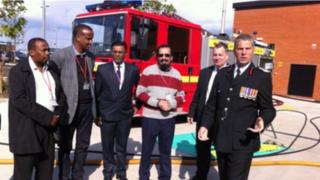 A fire engine has been donated to the Somali capital which only has three vehicles to serve a city of two and a half million people.
Leicestershire Fire and Rescue Service has provided an old engine, worth about £14,000, to the Mogadishu fire service.
The city of Mogadishu is rebuilding its emergency services after two decades of civil war.
Daran Farah, who works in the city mayor's office, said the gift would "go a long way" for the city's community.
"It's a city that hasn't had any emergency service for the last 20 years and a modern fire engine will do a good thing for the people," Mr Farah said.
'Remarkably quick'
Leicestershire charity Iqra Aid was the catalyst for the engine donation, having previously arranged the donation of Mogadishu's three other engines from the UK.
Dave Webb, chief fire and rescue officer from Leicestershire Fire and Rescue Service, said: "You ring the fire service anywhere in our area and we get a fire engine to you in 10 minutes. That is remarkably quick.
"In Mogadishu, that is very unsafe in areas, who knows what time it would take in areas where there is still armed trouble.
"Their biggest problem over there in terms of firefighting is water. They have no water so they have to fill up the fire engine back at the UN headquarters.
"They put the fire out with the water they have and if it has not gone out they have to go back to the headquarters."
The Mogadishu fire service has 53 firefighters.