Leicester shisha cafe fire: Imtiyaz Patel jailed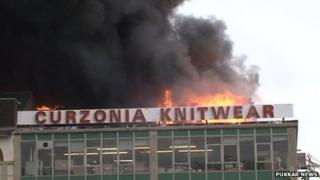 A shisha cafe owner convicted of setting fire to a rival business has been jailed for seven years.
Imtiyaz Patel, 28, torched the rooftop Cloud 9 cafe on Curzon Street, Leicester, causing £100,000 of damage.
Staff from the Curzonia Knitwear factory below had to be evacuated from the building in October last year.
Patel, of Herschell Street, was found guilty of arson and being reckless over endangering life at Leicester Crown Court in July.
'Substantial impact'
During the trial, the court heard that Patel had been friends with the owners of the cafe while his own venture had been in financial difficulties.
The court heard he set fire to the rival business, with petrol, out of spite.
Its owner, Afsha Sheikh, who has recently married, faces losses of more than £100,000 as a result of the blaze.
More than 60 firefighters were needed to bring the flames under control and smoke from the incident could be seen 10 miles away.
It also caused an estimated £300,000 of damage to a first-floor factory at the site.
Judge Philip Head told the court: "The substantial impact of the crime was in excess of £400,000.
"There were 38 people in one factory alone - what you did by setting fire and leaving the building ablaze posed the gravest risk of injury and death to those people."
He told Patel: "It is all the more astonishing that you did what you did, not in the spur of the moment, but with a substantial degree of planning."