Wogan backs 'lost city' Leicester's City of Culture bid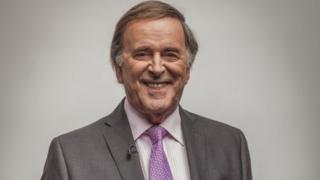 Broadcaster Sir Terry Wogan has backed Leicester's bid to become the next UK City of Culture - despite once branding it a "lost city".
The former Radio 2 breakfast presenter made the comment in the 1980s when he said Leicester was often mentioned in traffic reports "but otherwise, unknown to mankind".
He has subsequently become a frequent visitor to the city.
And now, he has described it as "worthy of the title City of Culture."
'Proud city of learning'
Sir Terry's support follows similar backing from actor and director Lord Attenborough, who grew up in Leicester.
Sir Terry received an honorary degree from the University of Leicester in 2010.
He was in the city last Saturday as part of his annual TOGS (Terry's Old Geezers or Gals) convention, which was held at the university.
He described Leicester as, "a proud city of learning, of history and certainly worthy of the title, City of Culture."
He added: "I'm the proud possessor of a small silver trowel, once presented to me by a mayor of Leicester, an even prouder owner of an honorary doctorate from Leicester University, and will be always grateful to one of the country's finest seats of learning for the hospitality it has always shown to me and my TOGs."
Leicester mayor Sir Peter Soulsby, said: "Terry has clearly taken the real Leicester to his heart after the jokes he used to make about us.
"He'll always get a warm welcome here and we're absolutely delighted he's given Leicester his support."
The city will submit its final bid on 30 September and find out in November if it has been successful.
Dundee, Hull and Swansea Bay are the other three cities competing for the title.