Trees felled to improve Leicestershire woodland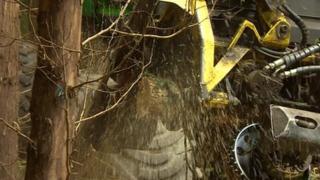 The Woodland Trust has removed hundreds of trees in a Leicestershire wood to improve conditions for wildlife.
Conifer trees planted in Ratby more than 70 years ago have been preventing light getting to the forest floor and stopping other plants from growing.
Peter Lowe from the trust said the trees had been causing too much shade and the measures would help light get to spring flowers.
The timber from the cut down trees will be sold to make money for the charity.
Mr Lowe said: "Conifers cast a fairly dense all year round shade.
"We want to get back to a broadleaf canopy so we're getting some [light] in the springtime when flowers and bulbs are growing.
"[We want to] re-establish the ecological system that should be operating in this wood."