Wigston divers claim underwater domino record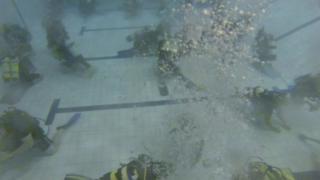 A group of scuba divers believe they have claimed a new world record for playing underwater dominoes.
The Del-Mar Dive Club, which meets in Wigston, gathered 60 divers in the pool at the same time, playing dominoes in groups of four.
The Leicestershire club organised the challenge, which took place on Tuesday, to mark the 60th anniversary of the British Sub-Aqua Club.
The official world record currently stands at 49 divers taking part.
Diving officer Daniel Smith said he was delighted for all those involved.
He said: "We've now got to send off all the photo evidence to Guinness World Records and hopefully there will be enough to verify that we've done it."
He added that the hardest part was organising the event and teaching everyone the rules.
"Everybody had to submerge together and start playing dominoes at the same time and after 10 minutes everyone has to finish the game they were on and come up at the same time," he said.
"If just one diver broke the surface the attempt would have failed."
The record attempt was independently verified by a local vicar, with diving groups from across the region taking part.