Faster broadband 'to boost Leicestershire economy'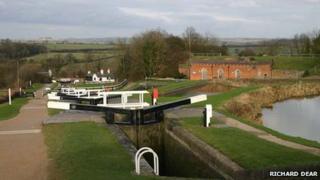 A new high-speed broadband deal could boost Leicestershire's economy by £92m, says the county council.
The latest £16.9m project is expected to give 95% of homes and businesses in the county access to faster internet speeds within the next three years.
BT said the deal would help people in rural areas, those who work from home and small businesses.
Leicestershire County Council said the faster broadband would in turn boost the local economy by £92m by 2020.
'Attracting inward investment'
Blake Pain, the county council's cabinet member for economic development, said: "We predict that faster broadband will create a £92 million boost to Leicestershire's economy over the next seven years, by making firms more competitive and attracting inward investment and jobs.
"Rural communities and businesses can play a major role in the county's future, once they have the high speed connections they need to compete nationally and internationally."
The council is investing £4.1m in the project with the rest of the money coming from government funds, the EU and BT.
The contract builds on BT's on-going commercial fibre rollout in Leicestershire, which has already made the technology available to more than 190,000 homes and businesses.
The programme aims to reach more than 270,000 people by spring 2014.