Leicester's Jubilee Square: Bid to stop green space project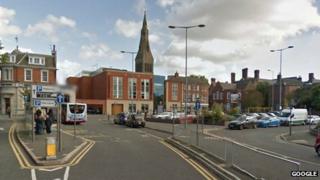 A project to turn a Leicester car park into gardens and open space is being challenged in court by an environmental consultant.
Attual Rai Chand has requested a judicial review of the Jubilee Square project, which would also include a pedestrian area and a statue.
Leicester City Council said the bid will not delay the £4m development.
Mr Chand said he was opposed to the design of the open space which he said had "no imagination".
'Let down'
"I wanted to be amazed by this but that is not what has happened. There is no imagination in this design and I think people are let down by this," Mr Chand said.
The project was originally expected to take eight months to complete.
Leicester City Council said it has already consulted businesses and residents.
Leicester Mayor Sir Peter Soulsby said: "Preparatory work has begun and, as far as I am concerned, it will continue as normal," he added.
Mr Chand, who lodged an appeal for a judicial review at the High Court, said the consultation had "not been as thorough as I would have expected - it hasn't engaged me or other people".
The project has also faced objections from businesses who said a loss of parking space would affect traffic and trade.