Two women rescued from fire at Eyres Monsell bungalow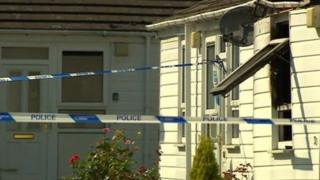 Two women have been rescued as a fire and two explosions damaged a home in Leicestershire.
The fire broke out at a bungalow on Benscliffe Gardens in Eyres Monsell, the fire service said.
As crews tackled the blaze there were two explosions, thought to be caused by oxygen cylinders stored at the home.
The two women were treated for the effects of smoke inhalation, while a firefighter was also taken to hospital as a precaution, the service said.
Gas and electricity engineers have isolated supplies to the property.
Andy Kirk of Leicestershire Fire and Rescue Service said: "The crews were faced with a developing fire in the property - and as they fought the fire there were two large explosions which blew the internal walls and part of the roof away."
He said the fire-hit property and an adjacent terraced property were both evacuated. Both women were rescued before the explosions.