New York taxi crash: Sian Green has part of leg amputated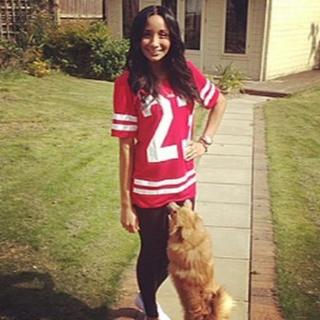 Doctors say they have had to amputate part of a British woman's left leg after she was hit by a New York taxi.
Sian Green, 24, from Leicester, had her left foot amputated after the accident on Tuesday. Surgeons said they were not able to reattach the remainder of her severed leg either.
Miss Green had been on holiday visiting the city with a friend when a taxi mounted the kerb in Manhattan.
Her family have flown out to be by her bedside at the Bellevue Hospital.
'Replantation not option'
Dr Spiros Frangos, a senior trauma surgeon at the hospital, said Miss Green was "fortunate" not to have suffered more serious injury.
He said: "Miss Green had her left leg amputated below the knee as a result of the accident.
"Given the condition of the lower leg, replantation was not an option.
"Her right leg sustained multiple deep lacerations which were also cleaned and repaired and will likely regain most functionality with time and physical therapy.
"She has been cared for by a highly trained trauma and surgical team and was fortunate to not have sustained other major injuries."
Dr Frangos said Miss Green had "remained optimistic despite the difficult circumstances".
Her parents Jason and Sonia Green released a statement earlier this week praising medical staff and the efforts of people at the scene of the accident.
They thanked US celebrity doctor Mehmet Oz, who had been filming nearby, and plumber David Justino for his "quick-thinking" after he tied his belt around Miss Green's leg to act as a tourniquet, to stem the blood loss.
The crash happened near the Rockefeller Centre on Sixth Avenue, in midtown Manhattan.
New York Police Department (NYPD) confirmed the cab driver had been issued with a summons for being an unauthorised driver of the vehicle.
It said investigations into the circumstances of the crash were continuing.