Leicester Uplands School still faces strike threat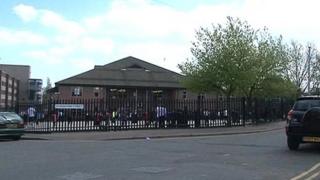 Strikes could disrupt the start of term at a Leicester school, as a long-running staff dispute continues.
Union members at Uplands Junior School are unhappy about restructuring plans and the way the school is managed, and have staged three one-day walkouts.
Leicester City Council has threatened to remove the governors, who have supported the school's management, issuing a warning notice.
Governors appealed against the notice and Ofsted is considering the appeal.
'Remaining optimistic'
An independent report into the matter was carried out by the former head of Birmingham City Council's school and governor support service - parts of which have now been handed to Ofsted to consider.
Restructuring that would have led to the loss of eight teaching assistant posts was proposed more than a year ago.
In March this year staff backed a vote of no confidence in head teacher Tim Luckcock and the chair of governors Abid Matak over the loss of the posts and the way the school was being run.
Then in April, staff reacted with anger when Dr Luckcock posted a picture of himself online wearing a turban, with the comment "almost going native" underneath.
He later explained the turban was worn as part of Diwali in a school celebration of the festival and that the comment was a "colloquial" expression.
But the unions said it was mocking different cultures and used it as a further example of grievances aired previously.
Ian Leaver, from the National Union of Teachers, said its members had been pushing for the suspension of the head and a warning notice to be placed on the governing body.
But he added: "I'm remaining optimistic that there will be a resolution before the start of term.
"If there isn't, I'm absolutely certain the teachers will not be prepared to tolerate the situation carrying on as it is and will be joined in any action by the non-teaching unions."
Mr Matak said the independent investigation had "exonerated" the governors but that the council disagreed.
"It's difficult for all stakeholders concerned," he said.
"The safety and the education of our children has to be paramount."
His sentiment of wishing to resolve the problems as quickly as possible was echoed by assistant city mayor for children, young people and schools, Vi Dempster.
"I'm asking officers in the council to chase up Ofsted. It is important that we get a decision quickly," she said.