Sir David Attenborough backs Charnwood Forest lottery bid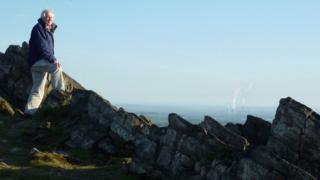 Naturalist Sir David Attenborough has backed a £2.4m lottery bid to fund work at an ancient Leicestershire forest.
The Charnwood Forest, containing some of the oldest rocks in Britain, is the subject of a bid by the county council as part of a preservation scheme.
In a letter of support, Sir David described his early visits to the forest as "the highlights of my Leicester boyhood".
The Heritage Lottery Fund is due to make a decision on the bid in October.
'Beautiful and special'
Sir David said the forest was "a precious lung for those living in Leicester and the other towns and villages that lie around it".
He offered his support to the bid, which will fund most of a £2.9m project at the forest.
The scheme will include the building of a new heritage centre, as well as introducing geological walks and trails, a new cycleway and wildlife monitoring projects.
Leicestershire County Council worked with a number of other groups on the bid. If successful, the work will begin in April 2016.
Pam Posnett, the authority's cabinet member for the environment, said: "We are really thrilled Sir David has backed our bid.
"The Charnwood Forest is a wonderful, unique area with rich geological, historical and environmental importance.
"We really hope our bid is successful, enabling us to help enhance this beautiful and special landscape which is much loved by Leicestershire people."
The bid was submitted at the end of May.
Charnwood Forest is competing with several well-known attractions, including Sherwood Forest in Nottinghamshire, for money from the HLF's Landscape Partnership scheme.