Rutland councillors 'have done nothing wrong'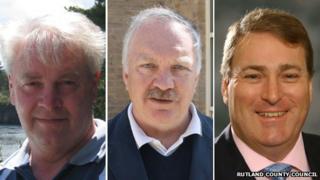 Three councillors threatened with legal action by their own chief executive have said they will not apologise.
Rutland County Council voted to back several officers against UKIP councillors Richard Gale, David Richardson and Nicholas Wainwright for allegedly defamatory statements.
Council chief executive Helen Briggs said she would sue but offered the three men chance to apologise.
But the councillors maintain they have done nothing wrong.
They said UKIP would help with their legal costs.
The councillors were Independent members but went under the name the Rutland Anti-Corruption Group. They have since switched their allegiance to UKIP.
Earlier this year, a harassment complaint was made to the police and Mr Gale spoke to officers, who gave "advice about future conduct".
It followed a series of requests for information about a planning matter and accusations there was an attempted cover-up - strenuously denied by the Conservative-run council.
Ms Briggs recently said she would not let the men disrupt council business, adding that she would take legal action if they did not apologise and retract the statement.
Mr Gale said: "As far as we're concerned, it's complete nonsense. All we are asking for is for the documents we've been asking to see for several years to be released into the open.
"We feel the latest action is simply a distraction to that happening.
"We have done nothing wrong; all we want is the truth out in the open. We've asked reasonable questions and there's no good reason for the council to withhold information from us and the more they do the more suspicious we get."
The council said it has not received any comment from UKIP but added that no deadline had been set for the apology and retraction.
A spokeswoman for Leicestershire Police said: "We received a complaint of harassment. We investigated the matter and words of advice have been given to those concerned about future conduct."