Leicester Globe pub closes over anti-military rumours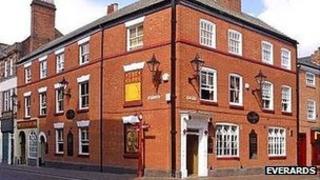 The hacking of a Leicester pub's website, which led to it closing over reports it had banned military personnel, is being investigated.
The message on the Facebook page of The Globe on Silver Street was picked up by a national blog and staff then faced an aggressive reaction from some people.
Owner Everards Brewery said it shut the pub for a short time on Saturday while more security staff were brought in.
Leicestershire Police are investigating an offence of malicious communication.
Everards managing director, Stephen Gould, said: "We were placed in a position that throughout the day our staff had to respond to very aggressive people obviously believing that the policy was true.
"Ourselves and the manager will have to monitor that very, very carefully over the coming days."
He added: "We have no idea why The Globe was targeted but we will be working with police to find out why this happened."
Police confirmed the matter was under investigation and urged anyone with information about the posts to contact them.