Mallory Park race track fined £25,000 over noise levels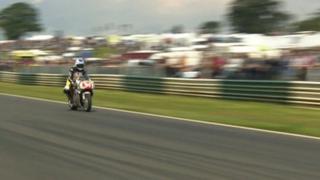 The owners of a Leicestershire racing track have been found guilty of five charges of breaching noise levels.
Mallory Park was also fined £2,500, plus £23,000 court costs, at Leicester Magistrates' Court.
The two-year dispute between the circuit and district council related to breaches of a 1985 notice which dictated how many days the track could be used and restricted noise levels.
The firm said it was now "reviewing its legal and trading position".
'Right route'
Legal action was taken by the council after the number of noise complaints about the track rose from eight 15 years ago to 153 in 2012.
Residents in the nearby Kirkby Mallory said the noise was "intolerable".
Chief executive of Hinckley and Bosworth District Council, Steve Atkinson, said: "We are pleased the judgement was made and we hope it will be taken into account by Mallory Park with any future activity and they will respond to what the residents have asked them to do for some time.
"The council wants Mallory Park to continue and we had no particular desire for legal action, but we wanted to establish that the enforcement was the right route to take.
"This isn't a position we wanted to get into. We very simply wanted there to be less noise, disturbing and causing a nuisance to the people that live in Kirby Mallory."
Mr Atkinson said if there were any further breaches then the council would consider "stronger action".
Mallory Park owner John Ward previously said the track could be forced to close if the council pressed ahead with legal action.
A statement released after the hearing said: "Mallory Park is now reviewing its legal and trading position.
"Mallory Park is delighted the case has established a number of facts regarding the 1985 notice that were previously unclear.
"Mallory Park remains open for business and to discussions with the council."