Burbage blast attack victims 'feels so vulnerable'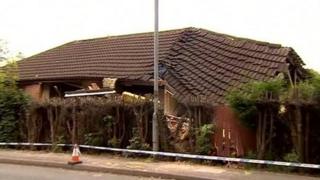 An arson attack on the Leicestershire home of a deaf couple who survived thanks to special alarms has left them "scared to go out".
Michael and Angela Broderick were trapped inside their Burbage home in the early hours of Monday.
The blast was first thought to be an accident but police are now treating it as arson.
Mr Broderick and his wife who are in their 50s, say they cannot understand why they were targeted.
Police also believe the arsonist may have burns to their face and hands because of the severity of the blaze.
"Why would someone want to threaten me? What have I done? I just don't understand," said Mr Broderick.
"Now I'm scared to go out. I feel so vulnerable."
The couple were alerted to the blaze by a recently-fitted fire alarm designed specially for the hearing-impaired.
Vibrating pads under their pillows woke them up but they were trapped in their bedroom by the flames at the other side of the door.
Station manager Mark Speight said: "They tried to throw chairs at the window but couldn't break it. In the end, it was the police officers who broke it."
'Absolute mayhem'
Although the blast destroyed a wall and part of the roof the couple escaped with minor injuries.
Police said they thought the house may have to be demolished.
Neighbour Lynn Parker said she had been woken by banging noises. "It sounded like somebody was trying to start a car," she said.
"Then the police were knocking on the door saying, 'You've got to get out'. It was absolute mayhem.
"The whole side of the building was on fire, flames were pouring out. It looked like somebody had got hold of the foundations and pulled the house apart."
Police are keen to speak to witnesses and said whoever started the fire probably has burns to their hands and arms.