Hannah Smith death: Funeral for web bullying victim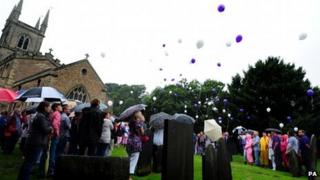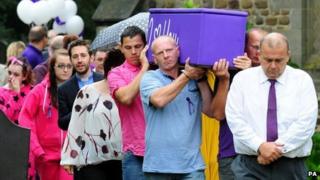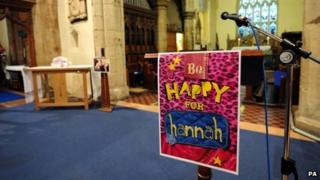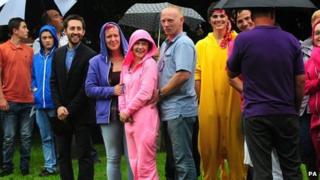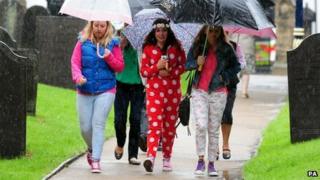 The funeral has been held for a 14-year-old girl thought to have killed herself after being bullied online.
Hannah Smith was found hanged at her home in Lutterworth, Leicestershire, on 2 August.
Her family asked people to wear onesies and bright colours for the service, at the town's St Mary's Church.
Ask.fm, the website she used, has ordered a "full and independent audit" of the site and its safety features.
It postponed an announcement about the findings until Monday "out of respect to Hannah, her family and their grief".
More than 400 mourners attended the funeral.
Hannah's father, David Smith, was among those who carried a purple coffin with "I love you" on the side.
Purple and white balloons lined the aisle to the front of the church and a poster reading "Be Happy for Hannah" was displayed, along with a picture of the teenager.
Anti-bullying donations
Hannah's coffin was carried out of the church to One Step Beyond by Madness before the congregation gathered on the grass outside, carrying balloons.
The balloons were released after a count of "1-2-3 - Goodbye" by the Rev Charlie Styles.
Mr Styles said Hannah's father had asked for donations to go to a local anti-bullying group.
"Today isn't a day for campaigning or politics, it's a day for saying goodbye, but instead of flowers or anything like that, Dave has asked for donations to Harborough Against Bullying," he said.
Ask.fm allows people to post comments anonymously and Hannah's father said he found posts telling his daughter to die.
Earlier this week Mr Smith said an audit of the site's procedures had come too late.
"Why didn't they do an audit weeks ago," he said.
"It is only because I have spoken out and said this is not right."
Mr Smith has called for the website to be shut down.
He added: "What happened to Hannah has devastated the family and has destroyed lives.
"The websites and government are not doing enough, and certainly not quickly enough to regulate these sites. It needs to be done now, not in six months time when another teenager might be dead."
Ask.fm's bosses have said they are committed to ensuring the site is a safe environment.
Speaking to ITV, Klavs Sinka, a co-founder of the site said he believed David Cameron "made a comment without having the full information about the case" when he urged people to boycott social networking sites that did not tackle abuse.