Burbage deaf couple survive bungalow blast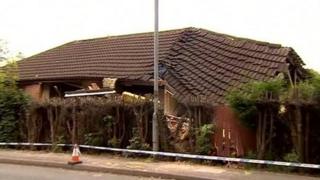 A Leicestershire couple have survived a gas explosion and fire thanks to specially adapted alarm system.
Parts of their home in Burbage collapsed after the incident at about 03:00 BST.
The couple, who have not been named, are profoundly deaf and escaped after being alerted by a recently fitted vibrating alarm system.
Police said investigations were continuing but the cause was believed to be accidental.
Mark Speight, from Leicestershire Fire and Rescue Service, said: "We fitted this alarm not too long ago so it's good to know it worked.
"The couple were woken by the vibrating pads under their pillows and a strobe confirmed the situation.
"However the fire meant they could not get out of the door and they had to be rescued by the first policeman on the scene."
Neighbour Lynn Parker said: "We were woken by three loud bangs, but at first we couldn't see anything.
"The next thing we know the police were telling us to evacuate because there had been an explosion."