Twycross Zoo elephant abuse allegations: Decision due on charges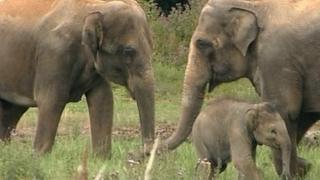 Officers investigating allegations of elephant abuse at a zoo have handed a file to the Crown Prosecution Service (CPS) to consider court action.
Three members of staff at Twycross Zoo, in Leicestershire, were dismissed and arrested in September.
No action was taken against one worker, but police confirmed files on two others had been handed to the CPS.
The staff were arrested after the zoo reported concerns two elephants had been mistreated.
A CPS spokesman said: "We've had evidence from Leicestershire Police about two of the people but a decision was taken some time ago against the third, determining no further action."
He added a decision on whether to charge anyone in connection with the investigation would be taken "in a matter of days".
The allegations related to a 28-year-old female Asian elephant called Tonzi and a 16-year-old called Noorjahan.
The zoo said the elephants had not suffered any lasting ill effects.
The two members of staff have been on bail since their arrest.