Glenfield children's heart surgery campaigner heads for NHS talks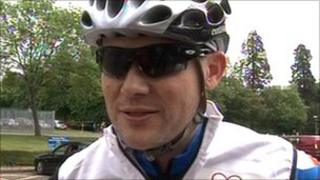 A campaigner fighting to save children's heart surgery at Leicester's Glenfield Hospital has been invited for talks with NHS bosses in London.
Adam Tansey, from Burbage, whose son Albert had life-saving treatment at the hospital, will represent Keep the Beat charity at the talks later.
An NHS review recommended closing the Leicester unit in favour of creating a specialist centre in Birmingham.
Mr Tansey said that process had been done "very poorly".
The review was suspended in June.
'Remain sceptical'
Mr Tansey will be joined by representatives from 20 other regional organisations to discuss the review into children's heart surgery, which took place in July 2012.
The Joint Committee of Primary Care Trusts (JCPCT) recommended closing centres at Leeds General Infirmary, Glenfield Hospital and London's Royal Brompton.
The JCPCT said treatment would be improved by focussing resources and expertise at fewer, larger centres.
The recommendations sparked protests in Leicester, and 100 people gathered outside the House of Commons calling for the decision to be reversed.
More than 10,000 people also signed a petition in protest at the plans.
But the plans were suspended after Health Secretary Jeremy Hunt announced the process was flawed, and ordered an independent review.
Mr Tansey said: "We'll be saying that [NHS] process was done very poorly.
"It didn't start at the right level, which is the ground level, and the surgery is a very small part of that.
"[Not] until you've actually got the pathway of care right can you start thinking about what we do with the surgery at the top level.
"We have to be optimistic at the moment, and embrace this new style of engagement, but I think until we can see the evidence that they really are interested we will remain sceptical."
Keep The Beat supports families affected by congenital heart defects.