Richard III tomb: Leicester cathedral starts reordering for tomb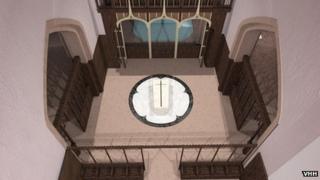 The reordering of Leicester Cathedral has begun, to accommodate the tomb of King Richard III.
Work has started in time for the re-interment of the king's skeleton in the cathedral next May.
The Dean of Leicester, The Very Rev David Monteith, said there was a lot of work to do before then.
The inside of the cathedral will go through a series of changes to create a "significant space", with a new floor, lighting and stained glass windows.
'Contemplative space'
The remains of the king, who died in battle in 1485, were discovered by archaeologists under a city car park in September.
The decision to lay Richard to rest in the cathedral has been challenged by a group called The Plantagenet Alliance, which includes distant relatives of the king.
The group wants to see the bones reinterred in York, where Richard had strong links. A decision on a judicial review is pending.
Despite this, plans were unveiled last month to lay the king to rest beneath a raised tomb inside a remodelled Leicester cathedral.
The Very Rev Monteith said: "Much of the cathedral has to change in order to accommodate the tomb for the king.
"We are going to try and keep things as much as we can and move them around but some things will have to go.
"We have to get this master plan right now if we are to do this intervention next year."
He said the character of the area around the tomb would provide "a quiet, elegant, contemplative sort of space".
He added: "We are going to have builders here for the next year until it is done.
"We are pushing it but this needs to be done and needs to be done well, with huge imagination and determination. There is a huge amount of energy and will to do this so we need to give it our best."
Final designs for the raised tomb are expected to be approved in November.