Leicester child prostitution: Victim praised for bravery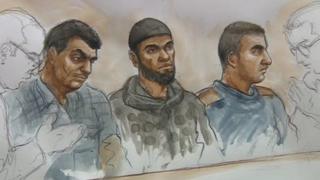 A 16-year-old girl who was the victim of sexual exploitation in Leicester has been praised for her bravery in coming forward.
Three men admitted paying the child, who told them she was a prostitute, for sex minutes before she was due to take the stand at Leicester Crown Court.
Police and social workers said her actions brought the men to justice.
A man who knows the case told the BBC she had been "through hell and back" and was trying to rebuild her life.
The teenager, who cannot be named, was described as "very damaged and vulnerable" in court.
On Thursday, Aabidali Mubarak Ali, 39, Rakib Iacub, 20, and Wajid Usman, all of Leicester, admitted paying a child for sex.
'Been through hell'
Mohan Singh told BBC Leicester: "She was gearing herself up to actually give evidence in court, she's tossing and turning all night long and 10 minutes before she's actually to go on she gets the news that she doesn't have to.
"How does a 16-year-old child, who has actually been through hell and back, cope with something like that?
"She doesn't actually know what's happening. She's very tired and very on edge at the moment."
All three men admitted paying a child for sex while Ali and Iacub also admitted facilitating child prostitution.
Paul Burnett, chairman of the Leicestershire and Rutland Safeguarding Children Board, ordered a review by the agencies involved.
He said: "These young people are often coerced and manipulated into these activities and whilst they are in those situations they often don't recognise themselves that it's wrong and particularly find it difficult to share that information with others.
"The review that was carried out internally has shown that all the proper processes were followed," he added.
Ali, Iacub, and Usman will be sentenced on 30 August.