Leicester house floods with sewage seven times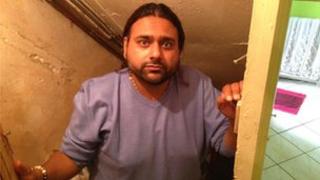 A Leicester family say they are living in a hotel because of sewage flooding into their home.
Sundeep Patel lives next to a Severn Trent sewage treatment tank in Turner Road in Humberstone.
He says it regularly overflows after heavy rain and his basement has flooded three times.
Severn Trent has apologised for the "distress" caused to the family and said it would arrange a complete clean and sanitisation of Mr Patel's house.
'Turned upside down'
Mr Patel, bought the house in 2000 and had his basement tanked and converted in order to use it as storage space.
His house has flooded seven times since then - four times before a Severn Trent tank was installed and three times after.
"Our life has been turned upside down. It's devastating," he said.
"Why should my family have to live in a hotel? I take pride in my house, it should be a safe haven for me and my children, but it is not."
Mr Patel says his family has spent up to four months living in hotels because the sewage smell gets so bad.
Wedding gifts and family photo albums have also been destroyed by the flooding.
The Severn Trent sewage tank, which holds 750,000 litres and cost £1m, was installed in 2004 to prevent flooding and store storm and waste water.
Mark Garth, Severn Trent's waste manager, apologised to Mr Patel and his family and said: "We understand a sewage flood is a really distressing and upsetting time for those who suffer from it.
"We do believe the tank is sufficient to deal with most rainfall, except in extreme weather there can be some flooding, which is beyond our control."
Mr Garth has offered a complete clean and sanitisation of Mr Patel's house and to refund his service charges and hotel bills.
A spokeswoman for Severn Trent added: "We are continuing to investigate the incident to make sure the tank is working correctly and if any further action is needed."