Leicester child prostitution trial: Men 'paid for sex with girl, 16'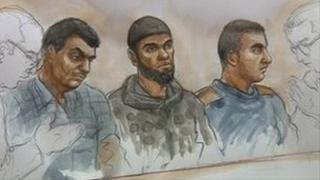 Multiple men illegally paid for sex with a 16-year-old girl who set herself up as a prostitute, a trial has heard.
The girl was driven to various locations around Leicester including parks, flats and bed and breakfasts, Leicester Crown Court was told.
Three men from the city are on trial accused of a total of 22 charges under the Sexual Offences Act.
Aabidali Mubarak Ali, 39, Rakib Iacub, 20, and Wajid Usman, 22, deny all of the charges against them.
Three other men have already pleaded guilty to related charges.
'Took advantage'
Opening the case for the prosecution, barrister Matthew Lowe said: "She was a very damaged and vulnerable 16-year-old girl from a Sikh family.
"They took advantage of her and took a blind eye to her age."
The girl had already been charging boys at her college £20 for sex before she met the men, the court heard.
The offences are alleged to have happened over a two-month period between November 2012 and January this year.
She met Mr Iacub by chance at a Diwali festival, Mr Lowe said.
All three defendants on trial are accused of paying for sex with the 16-year-old.
Mr Ali, of Guthlaxton Street, and Mr Iacub, of Maynard Road, are also accused of facilitating child prostitution, and trafficking the girl by taking her to various locations and introducing her to other men.
Mr Usman, of East Park Road, is also accused of inciting child pornography.
'I will keep you happy'
The girl would be given alcohol and cannabis before being paid £20 for sex, Mr Lowe said, then saved up the money.
One one occasion, the court heard, Mr Ali told her: "If you keep me happy I will keep you happy. Money isn't a problem."
Jurors were told that she made it clear to the men that she was only 16, she was a prostitute, and she had entered a business relationship with them.
She was described as having a problematic relationship with her parents, but her family became increasingly concerned.
Jurors were told that a group of people attacked the Moghul Durbar restaurant, in East Park Road, where the girl had sex with some of the men.
This led the police to become involved, and the girl was interviewed.
The trial continues.