Richard III site in Leicester throws up more discoveries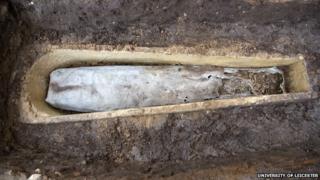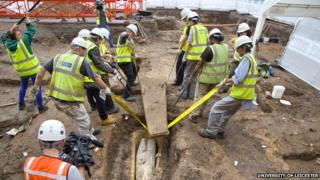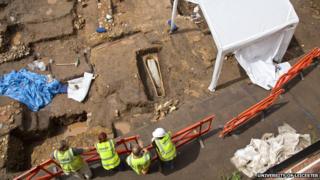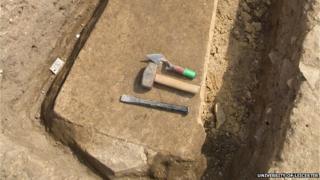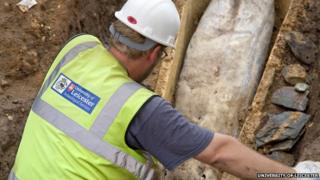 A mysterious coffin-within-a-coffin has been excavated from the same Leicester car park where Richard III was found.
Earlier this month archaeologists from The University of Leicester returned to the site where the last Plantagenet king was buried.
Laboratory tests will be carried out on the lead coffin - which was found inside a fully intact stone casket - before it is opened.
Archaeologists said it was the first time they had seen anything like it.
Learn more
The team discovered the king's body last year and confirmed it was Richard III in February after a battery of tests - news which brought the world's media to the city.
Experts returned to the site of the former Grey Friars Church at the beginning of July to learn more about the site.
Last week, eight people were needed to lift the stone lid from the outer coffin - which is more than 2m long, 60cm wide at one end, 30cm wide at the other and 30cm deep.
Inside they found a lead box in which they can just glimpse the remains of feet.
Grey Friars site director Mathew Morris, of the University of Leicester Archaeological Services, said: "The stone coffin was always the big thing we wanted to investigate during this dig.
Coffin within coffin
"For me, it was as exciting as finding Richard III. We still don't know who is inside - so there is still a question mark over it.
"None of us in the team have ever seen a lead coffin within a stone coffin before. We will now need to work out how to open it safely, as we don't want to damage the contents when we are opening the lid."
Archaeologists suspect it contains one of three people - Peter Swynsfeld, who died in 1272; William of Nottingham, who died in 1330 - both heads of the Grey Friars order in England - or Sir William de Moton of Peckleton, who died between 1356 and 1362.
Work has already begun at the site to build a permanent exhibition to the discovery of Richard, housed in a nearby former school.
It is due to open in 2014 and it is hoped it will bring 100,000 people and £4.5m into Leicester in its first year.
The bones are due to be reinterred in Leicester Cathedral in May 2014, subject to a legal challenge by campaigners who want his body placed in York.