Hansom Hall in Leicester restored as concert venue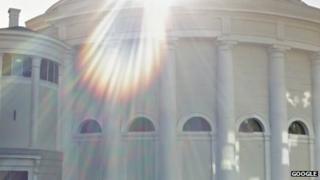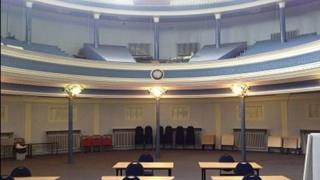 A theatre group is restoring a Victorian chapel in Leicester and plans to turn it into a concert hall.
Leicester Theatre Group has been given the council-owned Hansom Hall to use rent-free, on the understanding the group will oversee its regeneration.
The building, which is named after its famous architect Joseph Aloysius Hansom, is known as the Pork Pie Chapel due to its distinctive shape.
The group plans to use the hall to stage concerts by its youth programme.
'New lease of life'
"The building is a Grade II-listed Methodist chapel with fantastic acoustics," said Karl Strickland, the group's founder.
"We want to give it a new lease of life."
The group will also use the hall for performances, when a hire charge will be payable.
The group plans to improve the lighting, sound and staging at the Belvoir Street venue.
Mr Strickland said the first phase of the development will see the building incorporate 220 seats.
A second phase, which is dependent on a Heritage Lottery bid, will allow it to extend the venue to include 450 seats.
The hall, originally a Baptist chapel, adjoins the city's adult education college.
"We will use it as a youth theatre and conference venue," Mr Strickland added.
City mayor Peter Soulsby said: "The Hansom Hall is an amazing but underused city gem - and, in the run-up to the submission of our City of Culture bid, it's just the sort of space we need to be cherishing and bringing back into use.
"I'm delighted we've been able to come up with an arrangement that provides free rehearsal space for the the theatre group, and that upgrades facilities at the Hansom Hall for us and for other users."