Leicester Crown Court is 'in crisis' according to lawyers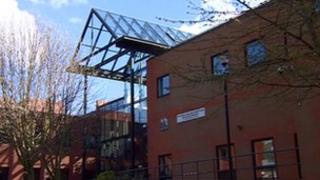 Victims of crime are being put through unnecessary extra stress because of a "crisis" caused by a lack of judges at Leicester Crown Court, lawyers claim.
Currently, four of the six courts are operating because of a limit on the number of temporary judges, known as recorders, Leicester is allowed.
Solicitor Michelle Harding said the court was in "freefall".
A spokesman for the Ministry of Justice said it was committed to "effective justice" while cutting costs.
"In the last five weeks we've had at least five trials pulled at the very last moment - 16:50 BST the evening before," Ms Harding said.
Meanwhile, barrister Paul Prior said a sexual assault trial this week had to be adjourned until March and a recent rape trial also had to be delayed.
"Everybody suffers. The complainant suffers because she has to wait again to give evidence against the defendant," he said.
"The defendant and his family suffer because they put their lives on hold awaiting the outcome of the case."
"We are in crisis," he added.
It was also pointed out lawyers suffered because firms were not paid until the outcome, putting a strain on some businesses' cash flow.
And witnesses' memories can be questioned if a trial is held long after the alleged offence, the barrister said.
A Ministry of Justice spokesman said: "The government is clear victims of crime must be treated with the care they deserve and we are totally revamping the Victims' Code to help with this.
"We are also committed to providing court and tribunal users with effective access to justice while seeking ways to do so at a lower cost - alongside our efforts to improve the efficiency of the justice system as a whole."
He added: "The Criminal Justice System Strategy and Action Plan, published last month, set out plans to increase the effectiveness and transparency of the courts.
"These include digitising the criminal justice system, transforming it from a fragmented paper-based system to a digital service which meets the standards the public rightly expect from a modern public service."