Scraptoft Hall 'to be restored' through housing plan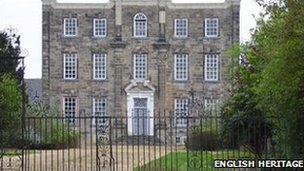 Plans to restore an 18th Century mansion in Leicestershire and build 42 houses within its grounds, have been approved.
Scraptoft Hall has been derelict for more than eight years and has been the target of trespassers and arsonists.
Campaigners said they were concerned about about the loss of mature trees and open space around the hall.
Harborough District Councillor Simon Galton said the development was a comprise which would save the building.
Mr Galton said he thought the hall would probably fall down if it was left for several more years.
"We came to the reluctant conclusion that this enabling development is the only way we could get the hall restored and back to its former glory.
"It has come to a situation where there has to be a way found to raise the capital to invest in this iconic building.
"This is the only way that's been put on the table to get this building restored," he said.
The hall itself will be converted into eight apartments.
It is thought the restoration of the Grade II listed building could cost about £3m.
Mr Galton said there was a legal agreement included in the proposals to allow public access to the lake and part of the grounds.
Planning permission for 103 retirement homes was granted in 2011 but work was put on hold due to a lack of funding.
English Heritage lost an appeal against the development of the site.
Related Internet Links
The BBC is not responsible for the content of external sites.