Doctor admits 'mix up' after six-year-old Jack Adcock dies in hospital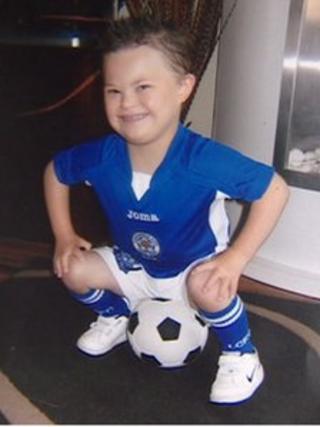 A doctor has admitted "mixing up" a six-year-old boy with another patient and said she failed to recognise his "grossly abnormal" blood results.
Jack Adcock, from Glen Parva, who had Down's syndrome, died after being admitted to Leicester Royal Infirmary on 18 February 2011.
Dr Hadiza Bawa-Garba told an inquest she had stopped staff who were treating Jack because she mistakenly believed he had a "do not resuscitate" order.
He later died of pneumonia.
'12 hours with no break'
Giving evidence at the inquest at Leicester Town Hall, Dr Bawa-Garba told the coroner, Catherine Mason, she should have checked Jack's identity before stopping resuscitation.
She said: "I should have checked the face before stopping. But I had been working for 12 hours with no break."
She added as soon as she realised her mistake she returned to Jack and tried to continue treating him.
The inquest, which began on Monday, also heard Dr Bawa-Garba had recently returned to work after 13 months of maternity leave.
She told the coroner that during that time she had become "deskilled in the management and treatment of shock" and had failed to recognise Jack was in shock.
She said she also failed to recognise his "grossly abnormal" blood results.
Previously, Jack's mother Nicky had told the hearing "there was no urgency" when Jack was admitted with breathing difficulties.
She had said there was never a "do not resuscitate order" given to Jack, whom she described as a "tough little cookie".
The inquest continues.