Leicestershire County Council puts £65m cuts to public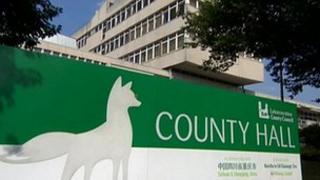 People in Leicestershire are being asked to help find millions of pounds of savings.
Leicestershire County Council said rising costs and funding cuts meant it had to find £100m by 2018 - a third of current annual spending.
While £35m has already been identified, the Conservative-led authority has asked people to help set areas for cuts and those than need protecting.
Officials denied the process was a public relations exercise.
Deputy leader of the council Byron Rhodes said that by the end of the cuts, the council will have shrunk by a third.
'Dire situation'
"We have to talk to people, it is only right that we should as we are here to serve them.
"The fact of the matter is that we have no alternative but to save this money, because if we don't save this money we will run out of money and we can't do that.
"We have to balance the budget, we have to make some difficult decisions and it is right we ask people before we make those decisions."
He added that he feared services for the elderly and disabled would come under most pressure.
Liberal Democrat councillor David Bill said the council was in a "dire situation" and it was time public services worked together.
"There has got to be a fundamental rethink at the top and they have got to decide to bring together police, health, councils and all public bodies.
"They must sort out what services are necessary, how they are going to be provided and how they are going to be paid for.
"I don't think it can be done by just tinkering with it, which is effectively what we are being asked to do now," he said.
A questionnaire will be sent out and is also available online. The deadline for submissions is 15 September.
In February the council said it had to make £78m of savings but has since been told by the government to expect another year of reduced funding.