Hinckley regeneration: Council backs £80m commercial revamp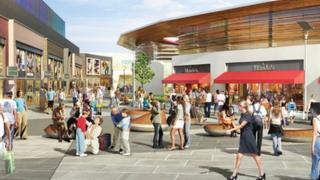 An £80m Leicestershire regeneration project will go ahead after borough councillors backed the scheme with a £7m loan.
Hinckley and Bosworth Borough council voted to support the Hinckley project which will include a supermarket, car park, bus station and cinema.
The project was put into doubt after a leaked letter from Sainsbury's suggested it was no longer interested.
But the council has now confirmed Sainsbury's has backed the project.
'Big gamble'
The first part of the Crescent Bus Station redevelopment, which includes a new cinema and bus station, is expected to be completed by next March.
Stuart Bray, leader of the Liberal Democrat-led council said: "I have a letter from Sainsbury's confirming they are under contract and they will take ownership of the supermarket once it is built."
He said the council would use its reserves and borrowing to fund the loan.
"It will secure the redevelopment of a derelict site and we will get a return on that money... including interest on the loan," he said.
The council also voted to spend £4.5m on purchasing the freehold for a new leisure facility included in the project.
But Conservative opposition leader Peter Batty said: "The loans are up to 30 years which are basically a big gamble... there are no guarantees.
"When it is forecast that 20% of high street shops will close by 2018... is it the best time for a council to go into... a speculative venture such as this?"
Chamber of commerce spokesman Martin Traynor said: "We have been talking about this particular site for 12 years... I think the local authority has made the right decision.
"They can borrow at 2-3% whereas a developer has to borrow at 7-8%."